These Red Velvet Shortbread Cookies give all the classic flavors of red velvet cake, but in a neat cookie package. With hints of cocoa and a white chocolate drizzle, these cookies will be your newest obsession.
What is Red Velvet?
"Red velvet" is traditionally a type of cake, like this Petite Red Velvet Cake here. Velvet refers to the small, soft crumb texture of the cake and the red is just that. The cake is red! Today, these cakes are typically made with food coloring, but *fun fact* originally the cakes turned naturally red from a reaction of the acidic ingredients with the cocoa powder. Here's what you need for our shortbread cookie version:
All-purpose flour
Cocoa powder. This is where our red velvet flavor comes in.
Butter. Shortbreads rely on butter to do a lot of the heavy lifting for both flavor and texture. A quality butter goes a long way.
Granulated Sugar
Vanilla Extract. Always in baking!
Salt. Also always in baking!
White Chocolate. I add a bit of vegetable oil when melting for a drizzle. This will keep the chocolate from getting too hard when cooled.
Making Shortbread Cookies
Shortbread cookies are very easy to make, and red velvet shortbread is no different! Just like these Chocolate Peanut Butter Shortbread Cookies, we will cream together the butter and sugar. Then add in the vanilla extract and red food coloring.
For the love of God, put the mixer on SLOW when adding the red coloring. There is quite a bit in the recipe and you don't want to know the pain of having that splash out of the bowl. Why not add it at the end? Because mixing it in to the butter mixture will make sure it's evenly distributed before adding the flour and over-mixing the dough.
Next, add the flour, cocoa and salt. Mix until the dough just starts to come together. Keeping the dough in larger pieces will make it easier to pat into the baking dish.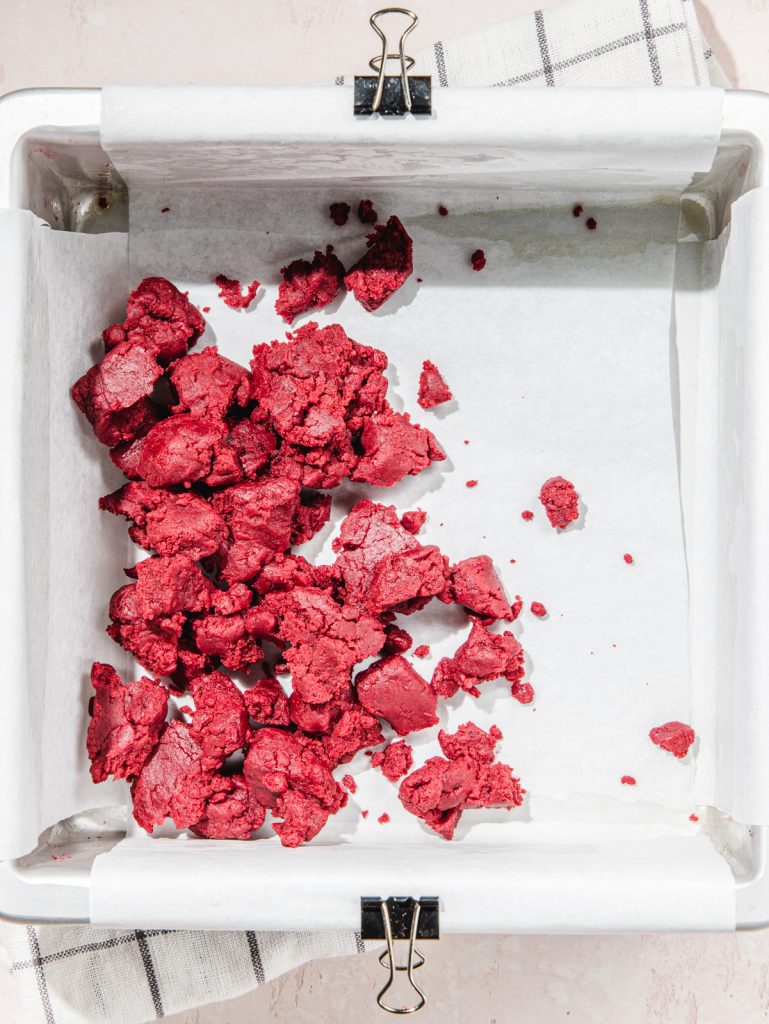 To prepare the dish, make sure you have two long strips of parchment at the ready, just skinnier than the width of the dish. criss-crossing these in the pan and leaving the strips out will give you a handle to lift the shortbreads out after baking.
Once the shortbreads are cooled, slowly melt your white chocolate and drizzle away. Wait only until the chocolate is cooled before slicing and enjoying!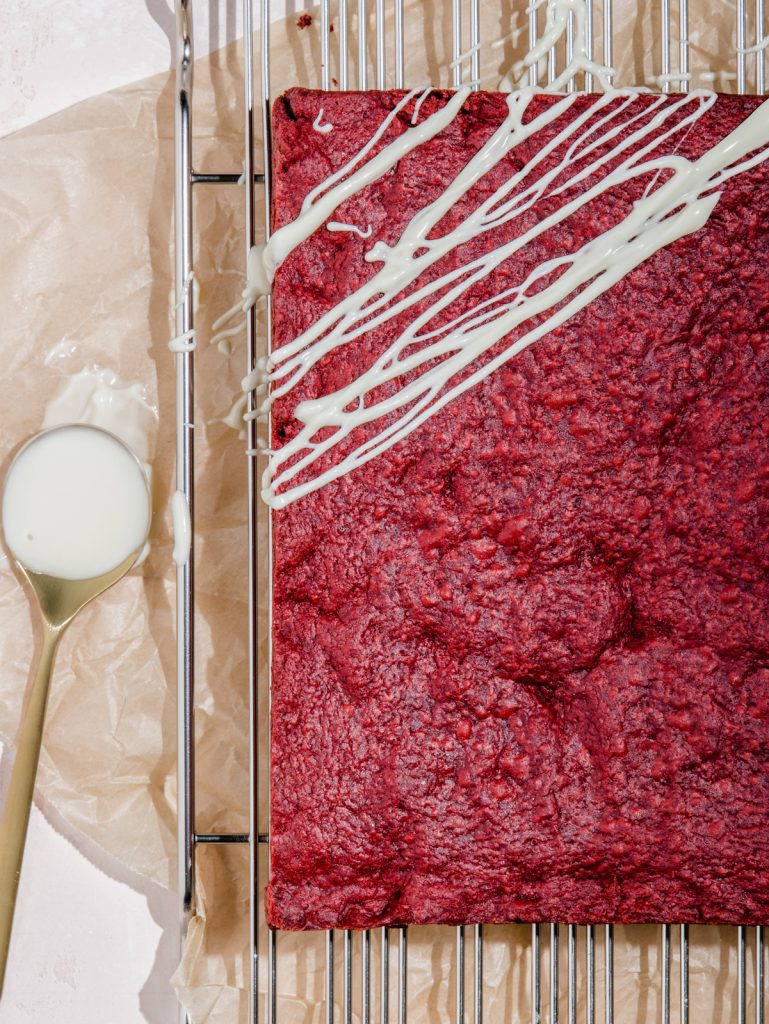 Helpful tools for Red Velvet Shortbreads
These cookies don't ask a lot!
A hand-mixer or stand mixer
Metal binder clips are great for holding down the parchment strips. The classic metal clips are totally fine to place in the oven.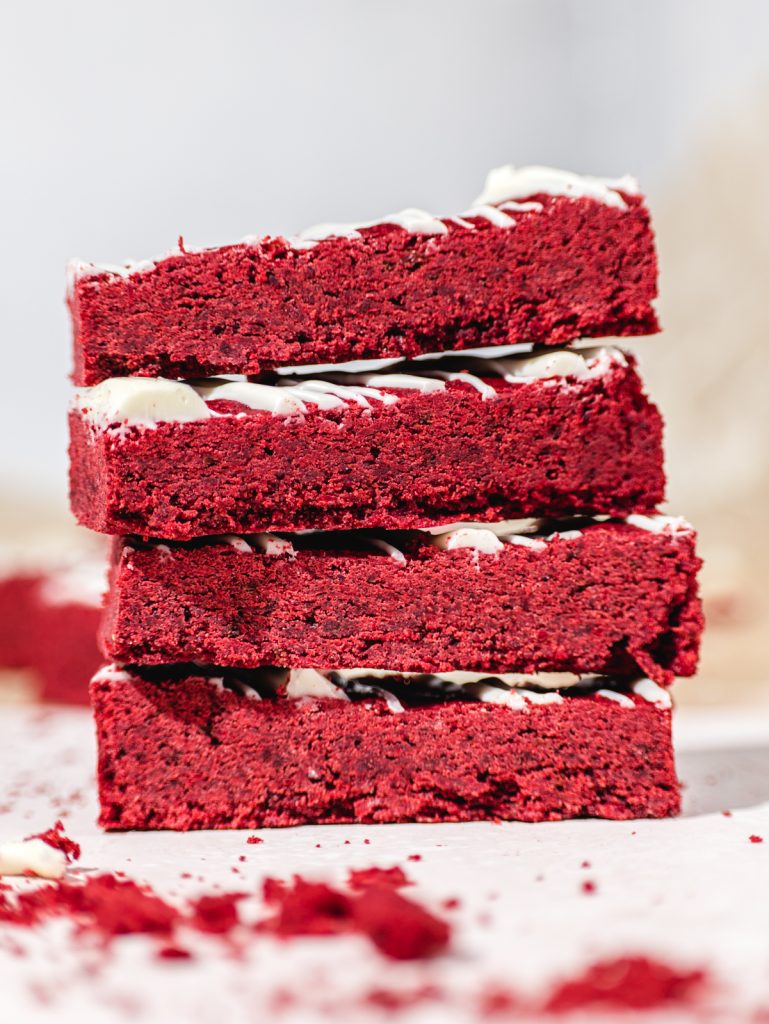 Print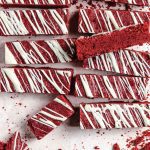 Red Velvet Shortbread Cookies
Author:

Theresa | Quiet Baking Day

Prep Time:

15 minutes

Cooling Time:

1 hour

Cook Time:

25 minutes

Total Time:

1 hour, 40 minutes

Yield:

12 cookies

Category:

Cookies

Method:

Easy

Cuisine:

American
---
Description
With hints of cocoa, these buttery red velvet shortbread cookies have all the flavors of the classic red velvet cake.
---
Shortbread
240

g

all-purpose flour

1 1/2 tablespoons

natural cocoa

1/2 teaspoon

salt

169

g

unsalted butter, softened

99

g

granulated sugar

2 teaspoons

vanilla extract

2 1/2 tablespoons

red food coloring
White Chocolate Drizzle
56

g

(1/2 bar) white chocolate bar (not chips)

1/4 teaspoon

canola or vegetable oil
---
Instructions
Preheat oven to 350°F. Spray a 8″ square baking pan with non-stick spray. Cut a sheet of parchment paper in half length-wise. Set one strip in the bottom of the pan, leaving the paper to overhang the edges. Place the second strip in the opposite direction. These will become the handles to remove the baked cookies.
In a medium bowl, whisk together flour, cocoa and salt.
In the bowl of a stand mixer, or with a hand-mixer, cream butter and sugar together until light and fluffy. Scrap down sides of bowl as needed with rubber spatula.
On LOW, gently mix in vanilla and red food coloring.
Slowly add in flour mixture. Mix until just combined, but still in large clumps. Pour into prepared pan and pat into a single layer.
Bake for 25-30 minutes until the edges are just coming away from the pan and the center is firm. 
Allow to cool completely in the tin before removing using the parchment strips. Place on cooling rack.
White Chocolate Drizzle: In a small heat proof bowl, place white chocolate and oil. Microwave on low power in 30 second bursts, stirring between each. Once chocolate is fully melted, drizzle on shortbread. Allow to harden.
Once ready to slice, trim and discard edges. Slice into 12 equal pieces.
---
Notes
A 9″ springform pan may also be used
Store in airtight container for 5 days